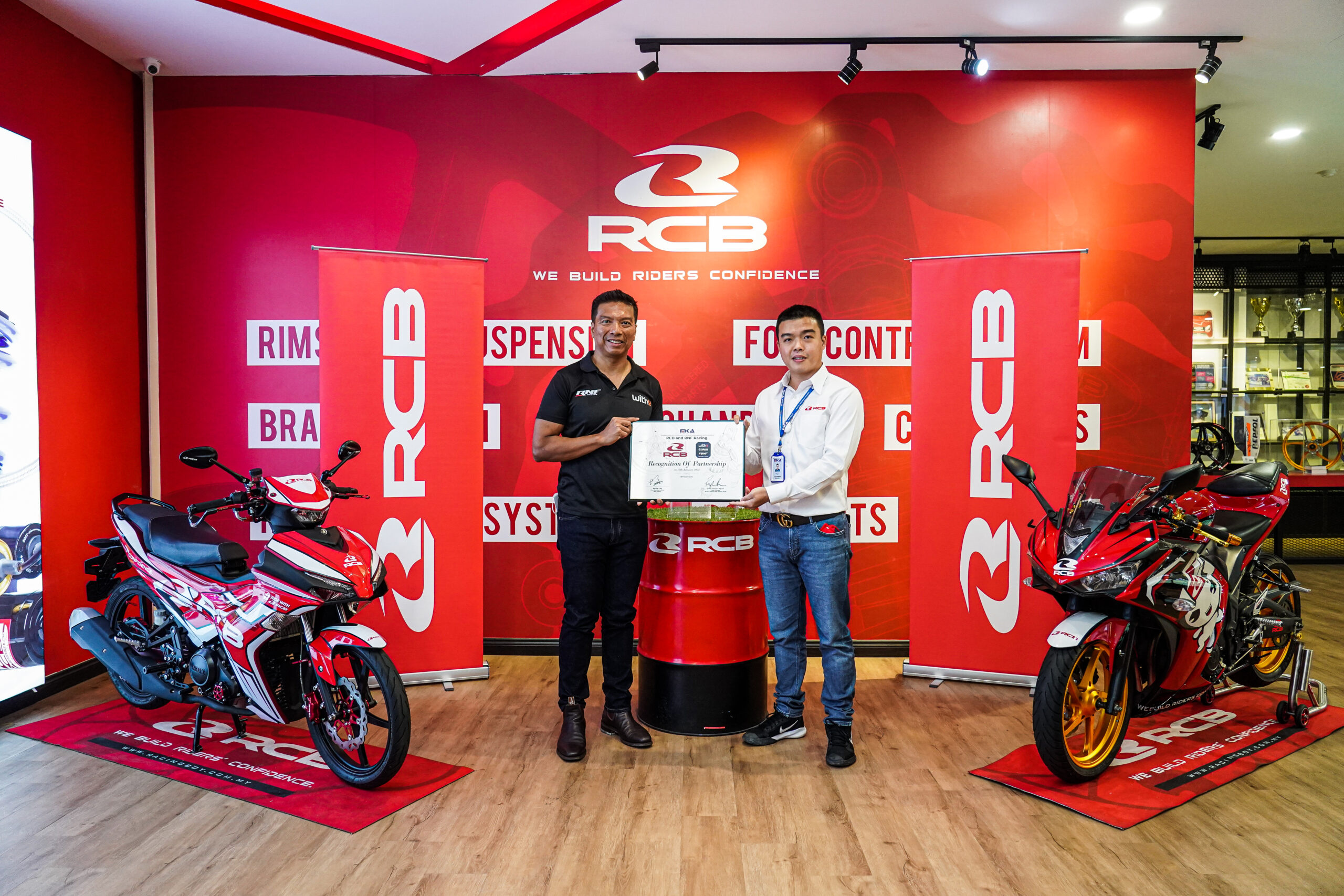 WITHU YAMAHA RNF MotoGP™ TEAM SIGNS PARTNERSHIP WITH RCB
WithU Yamaha RNF MotoGP Team is pleased to announce RCB (Racing Boy) as the Official Partner for the new season of the MotoGP™ World Championship and for the next two seasons until 2024. RCB, who is no stranger to MotoGP™, continues its involvement and confidence with the team led by Team Principal, Razlan Razali.
Established in 1995, RCB or formerly known as Racing Boy was founded with the brave and passionate goal of providing top quality aftermarket motorcycle parts and accessories. As one of the market leaders within its industry, RCB is the latest sponsor to join the new squad as the team look set for a competitive season in the premier class with riders Andrea Dovizioso and Darryn Binder.
RCB has grown rapidly over the years to become a leading and trustworthy brand with a huge following in Asia and Europe for their innovative design and development of motorcycle CNC parts, Rims, suspension and accessories that are derived from their various partnerships with race teams throughout the years. The brand supports and sponsors both national and international events and race teams throughout the globe in order to give back to the motorcycling community while also nurturing and supporting future generations of motorcycle enthusiasts and racers. The passionate team at RCB studies, learns, and further develops new cutting-edge technologies which are widely used in racing from National and South East Asian championships to the premier MotoGP™ World Championship. The technology and learnings from competitive racing are then transferred to their variety of products created for the consumer market.
The RCB logo is set to appear on the front and rear fender, lever guard, heel guard and pit box equipment from RCB for the #AD04 and #DB40 machines and team assets throughout the 2022, 2023 and 2024 season. Their range of products can be viewed at https://racingboy.com.my.
Razlan Razali, Founder and Team Principal WithU Yamaha RNF MotoGP™ Team
"We welcome our latest partner RCB to the WithU Yamaha RNF MotoGP™ Team. RCB is no stranger to MotoGP™ and was one of the first partners who supported us in the previous team. RCB being a company from humble origins, I am proud of how far RCB has grown with their involvement in racing from National to international championships and more importantly in the World Championship and we are honoured to have been part of it. Moving forward with our next chapter, I am excited to be working together with RCB in providing the best and top quality motorcycle parts for the team. Once again, I would like to thank Mr. Bruce Lee, the CEO of MKA GROUP and his passionate team for their confidence and continued support in joining us for the next three seasons."
Mr. Bruce Lee, CEO of MKA GROUP
"We would like to extend our heartiest congratulations to Razlan on his newly developed initiative and progress within the MotoGP scene. With his passion and drive, We have full confidence that he will prevail in providing a solid performance throughout the seasons to come. Together, we intend to learn, experience and develop new chapters in regards to product development with our loyal and potential consumers in mind. MotoGP™ is the pinnacle of any motorcycle race in the world, and it is the ultimate platform for us to continuously adapt our R&D efforts towards products and services according to world-renown standards. We would like to wish WithU Yamaha RNF MotoGP™ Team the best and we look forward to an exciting 2022 season ahead."
About RCB
Established in 1995, RCB (Racing Boy) is well known for its devoted efforts in developing aftermarket parts and accessories for popular motorcycle brands and models alike.
Its in-house Research & Development facility is led by their qualified multi-national engineers alongside passionate technicians and craftsmen who continuously develop new and innovative products to suit the consumers of today. Through this passion alone, RCB has evolved to become one of the top market leaders in its class, especially within the Asian Region.
Today, RCB offers a broad array of motorcycle accessories, which include rims, suspension systems, brake systems, foot control systems, hand control systems, and much more. RCB has grown rapidly over the years establishing itself as a trustworthy brand on a global scale with its own name etched across world-renown racing teams within the MotoGP™ grid. RCB continuously works alongside professional racing teams to support and grow the motorcycle community by developing market-friendly products that are of International racing standards.
RCB is in a well-structured position to provide a wide range of products to meet the requirements of tomorrow. Infused with the heartfelt devotion of achieving new heights, RCB is ready to explore and enter a greater international market in the near future.